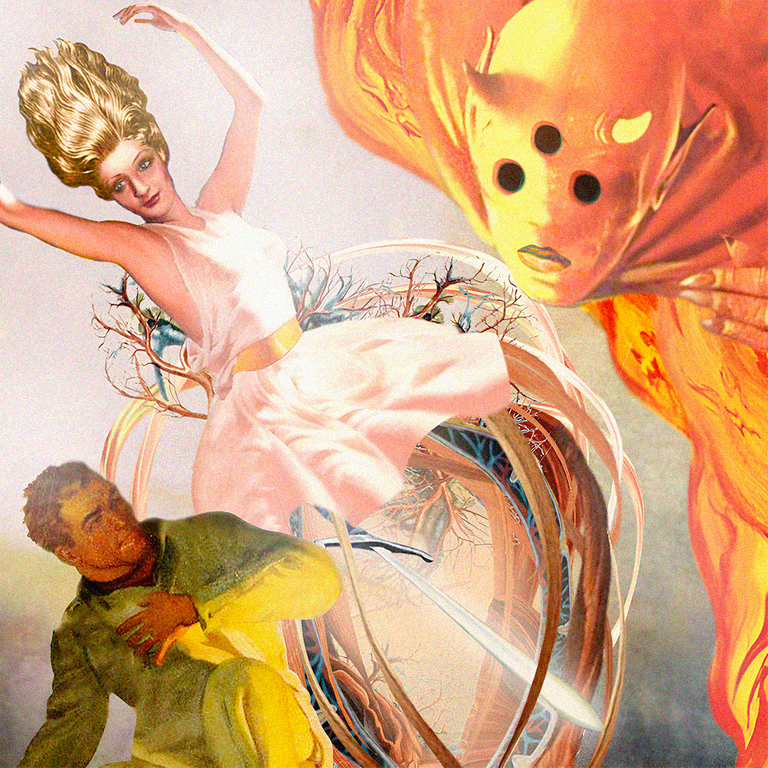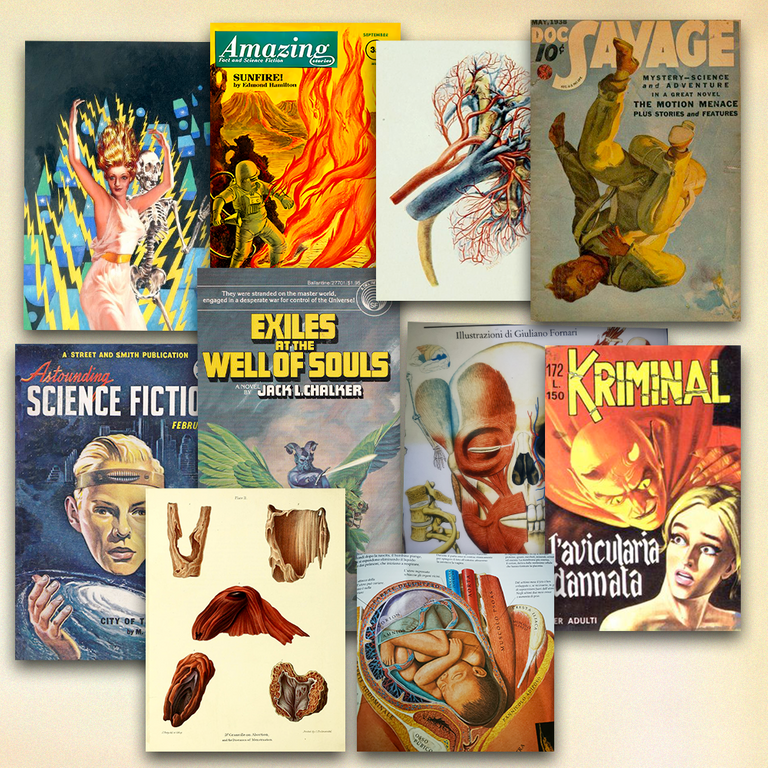 Le valchirie proteggono fin dall'alba dei tempi il "valoroso guerriero", l'uomo che nonostante la sua fragilità di essere umano combatte, consapevole del rischio che comporta.

se si trovasse in una situazione critica la valchiria sarebbe apparsa sotto forma di un'arma capace di salvarlo.

sacrificando la sua forma celestiale.


uno dei dettagli su cui ho lavorato di più è stata la disintegrazione del corpo della valchiria. l'uso di effetti di luce sarebbe stato molto semplice e quindi ho optato per qualcosa che combinasse luce e carne. Qualcosa che unisce sia aspetti spirituali che terreni, proprio come le antiche guerre.⚔️

Per questa illustrazione, ho utilizzato immagini tratte da vari libri di anatomia per creare l'"esplosione",
e ha cambiato il volto del demone usando la bocca di un personaggio sulla copertina di "Astounding science fiction"👄.

La valchiria è un dipinto dell'artista Robert Garcia e il potente eroe era in realtà un paracadutista.
il demone è tratto da una copertina di "Kriminal" (fumetto a tema dark) e la spada è tratta da un romanzo di Jack Chalker.
Valkyries have been protecting the "valliant warrior" since the dawn of time, the man who although his frailty as a human being fights, aware of the risk that he entails.

if he find would himself in a critical situation the valkyrie would appear in the form of a weapon capable of saving him.

sacrificing her celestial form.


one of the details I worked on the most was the disintegration of the valkyrie's body. using light effects was going to be very basic and so I opted for something that combines both light and flesh. Something that combines both spiritual and earthly aspects, just like ancient wars.⚔️

For this illustration, I used images from various anatomy books to create the "explosion",
and changed the face of the demon using the mouth of a character on the cover of "Astounding science fiction"👄.

The valkyrie is a painting of the artist Robert Garcia and the mighty hero was actually a skydiver.
the demon is from a "Kriminal" cover (dark-themed comic) and the sword is from a Jack Chalker novel.